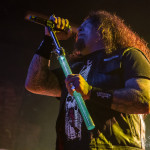 Am 17. März 2013 stürmen Testament die Rockfabrik in Nürnberg und suchen anschließend weitere deutsche Städte heim (siehe Tour-Dates am Ende der News). Seit ziemlich genau 30 Jahren steht die Thrash Metal-Band aus der Bay Area bei San Francisco an der Spitze ihres musikalischen Genres und hat erst 2012 mit dem aktuellen Album "Dark Roots of the Earth" bewiesen, dass sie auch nach drei Jahrzehnten noch so wild und technisch anspruchsvoll sind wie zu ihren Anfangszeiten.
Von Testament stammen zahlreiche Klassiker des Thrash Metals wie "Over the Wall" vom Debüt "The Legacy" oder "Apocalyptic City", "Practice what you preach" oder "The Henchmen Ride". Songs, die sie immer wieder auch live spielen und für sofortige Mosh Pits sorgen – die Rockfabrik Nürnberg muss ich also warm anziehen!
Verstärkung erhalten Testament in Nürnberg von Bleed from Within, die den Abend bereits um 18.15 Uhr eröffnen werden. Die Schotten aus Glasgow versprechen mit ihrem brettharten Deathcore einen derben Auftakt, der ab 20.20 Uhr von Shadows Fall Dew Scented fortgesetzt werden soll. Update: Da Shadows Fall abgesagt haben – kurzfristig, laut Veranstalter, springen dafür Dew Scented ein. Die passen sogar noch besser ins Programm, da sie echten Thrash Metal spielen. Na also. Die Amis passen als Bindeglied hervorragend zwischen den Deathcore von Bleed from Within und den zeitlosen Thrash Metal von Testament, spielen sie doch selbst eine rasante Mischung aus Thrash und Death Metal mit gelegentlichen Core-Elementen. Testament entern um 21 Uhr die Bühne. Ich werde vor Ort sein und Fotos liefern.
Tour-Dates
16.03. I Reggio Emilia – Tempo Rock Club
17.03. D Nürnberg – Rockfabrik
18.03. D Dresden – Schlachthof
20.03. D Stuttgart – LKA Longhorn
21.03. D Wiesbaden – Schlachthof
22.03. D Hamburg – Docks
23.03. D Köln – Live Music Hall
25.03. D München – Backstage
26.03. CZ Prag – Nova Chmelnice
27.03. PL Krakau – Studio Club
28.03. D Berlin – Huxley's
30.03. NL Schijndel – Paaspop Festival
31.03. F Paris – La Machine de Moulin Rouge
Related Posts